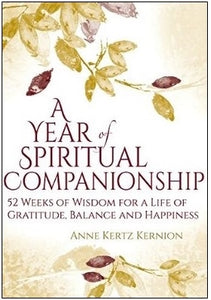 Year of Spiritual Companionship
52 Weeks of Wisdom for a Life of Gratitude, Balance and Happiness
Nourish your spirituality with helpful reminders to look for—and create—moments of grace in each day.
In this week-by-week guide to living more thoughtfully, Anne leads you through an exploration of everyday spirituality, combining the wisdom of spiritual luminaries, life lessons, and insights from social science and neuroscience. A businesswoman, wife, mother, grandmother and friend, Anne shows how it is possible to bring more awareness, love and gratitude into your busy life, keeping in touch with your deepest beliefs and most authentic self.
Clear, accessible, inviting, inspiring and, above all, beautiful.

—  James Martin, SJ
Wisdom for reflection and practical guidance for the journey...reads like a conversation with a friend



— 

Rev. Jeff Taylor
Dive into the extraordinary ordinariness of life...A guide for living with curiosity, compassion and gratitude.



— Mary Coonan
Published by SkyLight Paths.
Also available at your local Barnes and Noble Bookseller.
---
We Also Recommend